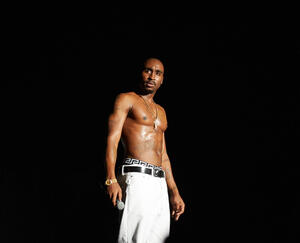 This was a good movie & I'm glad I got to see it in the theaters…but it could have been better.
For the most part, the casting was done well in terms of balancing actors who look like the real-life people, but are also able to act. My only small gripe was that the chick they cast for Faith Evans was a little too light–I only bring it up because in combination with using her time-appropriate bleach blonde look, it just looked like a white girl & for a second I was like "who is this again" until they started referring to her as Faith. Not a big deal, it was just a little confusing. I was also a little amused at Bonnie Bennett as Jada Pinkett?? Like…let's look at this…
I'm not saying there's no resemblance, but like…was Zoe Kravitz not available?? Let's move on…
The way they were able to weave the hits into the fabric of the storytelling was well done. Not all music biopics do this well and it has the effect of feeling like a VH1 documentary rather than a cinematic endeavor. I also feel like, overall, they did a good job of showing Tupac as a complex man. This was really important to me because it is a huge part of what makes his music and message so meaningful.
One of my bigger gripes with the film were the general treatment of time transitions. They were spanning quite a lot of time, but they way they set up these cuts seemed a little disjointed. My other meh feeling is about the treatment of his death. Throughout this whole film, we see how his decisions to affiliate with the scarier members of the scene contribute to his untimely death. And yet, in the close of his death scene he has choruses singing like he was some fallen angel who was just in the wrong place at the wrong time, when in reality he was involved in a world full of gang members who killed people. Not only is it not surprising that he was murdered, but it's painful to see his demise almost glorified. Was it terrible that such an amazing artist and poet died well before his time? Yes. But it's not like he got hit by a bus or his plane inexplicably fell from the sky. He was murdered -very probably- due to his interactions with some very dangerous people. My concern is that young folks will watch this movie and see the glory and fame of the rap game and interpret this choral rise to God scene as a glorification of a gangster death. Like that is some sort of height to be attained. And what we don't need is any more kids joining gangs and ending up in these same idiotic feuds that killed some of our most talented musicians because they are seeing the 90's gangster aesthetic reinforced in this film.
If you haven't seen it in theaters yet, it is at the very least worth hearing some great song bumped LOUD. Also the acting was pretty good. If you have to pay more than $10 to see a movie in your town, then you can probably wait until RedBox. : D
3.5/5